About Pump-Tech Plumbing & Repair Ltd.
Pump-Tech Plumbing & Pump Repair Ltd. are your rural plumbing experts. We are Manitoba-owned and operated company, specializing in private sewage and water systems.  We have been earning a reputation for quality workmanship and dependability.  Pump-Tech installs full water softener, heater, and filtration systems.
Our main activity has been in the commercial and agricultural industry in Manitoba.  We have now moved our special skills into the residential market, while continuing to serve our commercial and agricultural customers.  We are continually upgrading on the latest advancements in the industry to offer the best products and installation possible.
When you see the Pump-Tech Van pulling into your driveway, you know your problems are over.  With 20 years of experience at flowing in soft clean water, and ensuring a trouble-free septic system, Pump-Tech is your first call.
With a fully-stocked service van carrying all common parts on board, your system will be up and running in no time.  We carry a full line of Sump Pumps, Submersible & Jet Pumps, Pressure Tanks, Eversoft Softeners and Hot Water Heater tanks.
For your Reverse Osmosis systems we carry Iron Filters, UV Lights, and Replacement Filters.
Need a new Electric Furnace, Hot Water Tank or how about In-Floor Heat? The professional service at Pump-Tech can keep the house, the water and your toes toasty warm!
If your system is in need of replacement, Pump-Tech is a Manitoba Conservation Certified Septic Installer.  In addition to the top-of-the-line installation you can expect from Pump-Tech, we also care about your property and by using Protection Mats in wet conditions we can minimize the damage caused by heavy machinery.
Are you a do-it-yourselfer?  Pump-Tech carries pumps, pill switches and parts at very competitive pricing.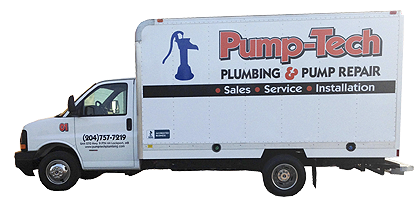 Your system runs seven days a week, not just on weekdays, so whether you have no water, a sump or sewage pump not working, a leaking hot water tank or your main sewer drain is plugged - Pump-Tech can get these issues back on track 24/7.
Pump-Tech is your Full Service, Full Line Water In and Sewage Out Repair Company.
As a preventative measure, call Pump-Tech and schedule a pump cleaning today.